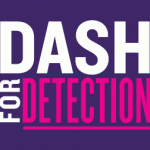 I will be running the Dash for Detection April 17 for research to fight Pancreatic Cancer Research.
Please pledge your support by donating: Dash for Detection
Thanks to advances in treatment, overall U.S. cancer death rates are steadily dropping. Unfortunately, the dismal survival rate for pancreatic cancer has not improved in 25 years.
Cancer treatment advances are the result of scientific research. But research follows dollars, and in spite of being the nation's fourth leading cancer killer, pancreatic cancer receives only 2% of federal research funding. Simply stated, more money is needed to help researchers identify better treatments and a cure for this disease.
As you may know, my friend and boss, Big Brothers Big Sisters of Metropolitan Chicago CEO, Art Mollenhauer loss his wife and friend Ida to pancreatic cancer two year ago. Art and Ida supported my comedy career as well as leading an amazing non-profit. I have joined forces with the Rolfe Pancreatic Cancer Foundation and The Lustgarten Foundation and will participate in DASH FOR DETECTION 5K Walk/Run for Pancreatic Cancer Research. These two foundations, working together, can greatly increase awareness of the need for early detection pancreatic cancer research. Please support me in the Walk-Run, and help ensure that pancreatic cancer patients have a fighting chance. Thank you for your support.
Last Year: Dash For Detection 2015!