Zanies Chicago February 25 & 27 & March 1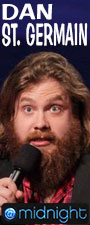 Dan St. Germain was chosen as a featured comic in Variety's "10 Comics To Watch" list, was listed as one of Paste Magazine's Top 10 Great Underrated Comedians, named Time Out NY's "Comedy Break Out" of 2013, selected as one of Mandatory.com's "Comedians to Watch Out For" in 2014, and he's currently developing a show with FOX.
He's got a Half Hour special on Comedy Central and has appeared on Jimmy Fallon, Conan, Best Week Ever, @Midnight, We Love the 2000s, John Oliver's New York Stand-Up Show, The Electric Company, Guy Code, and Friends of the People. He's the creator and star of the web series Kicking Dan Out featured on My Damn Channel, In Security on Comedy Central Studios, and has collaborated with Above Average.
Get ticks and info: Zanies Chicago